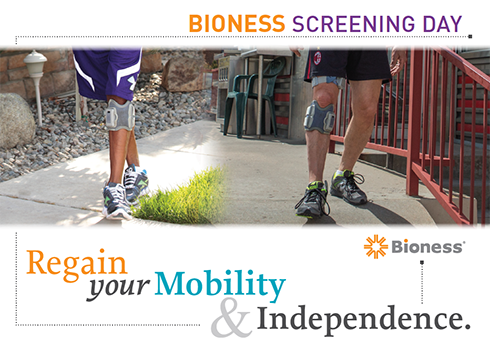 Do you have trouble walking or using your hand as a result of Stroke, Multiple Sclerosis, Brain Injury, Spinal Cord Injury or Cerebral Palsy?
Bioness wireless technologies may help you regain independence and get back into a more active lifestyle.
Find out if a Bioness system is right for you.
Rezac & Associates Physical Therapy, LLC
855 Citadel Dr E
Colorado Springs, CO 80909 (Map)
March 21, 2017
By Appointment Only
1.800.211.9136, Dial 2 - Request a FREE SCREENING at REZAC & ASSOC in CO Springs
Watch Our Videos
FOR MORE INFORMATION: BIONESS.COM
Individual results vary. Consult with a qualified physician to determine if these products are right for you.
Contraindications, Adverse Reactions and Precautions are available on-line at www.bioness.com (also available in the L300/L300 Plus/H200 Wireless User's Guides). BIONESS®, NESS H200® Wireless, NESS L300®, NESS L300® Plus, Intelli-Gait®, Intelli-Sense Gait Sensor®, Bioness®, the Bioness Logo and LiveOn® are trademarks of Bioness Inc. | www.bioness.com | Rx Only © 2016 Bioness Inc.